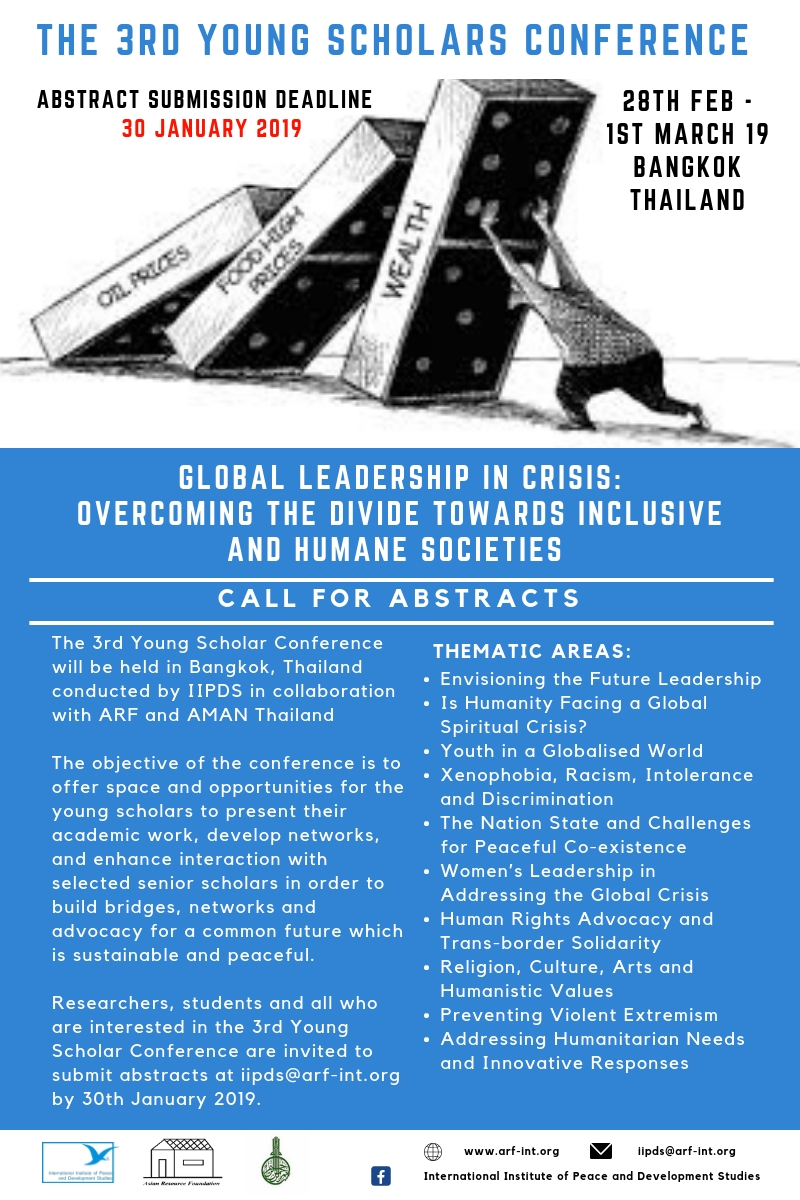 The 3rd Young Scholars Conference
28th Feb – 1st March, 2019, Bangkok, Thailand
 Global Leadership in Crisis
Overcoming the Divide: Towards Inclusive and Humane Societies  
Submission of Abstract due 30 January, 2019
Submission of Full Paper due 15 February, 2019
Introduction
In this Gods Kingdom, it has been a common desire of the people to live in peace, harmony, modest prosperity and dignity. For ages messengers, philosophers, political social scientists and philanthropists contributed towards this goal. In the process God's kingdom has been divided into Nation States which are governed in many forms. Many of these geographical entities were colonized and in course of time these entities earned independence through long struggle.
The United Nations was established to be a platform to facilitate development cooperation so that each of the member states prospers. In case any conflict arises between and among states, the UN Charter requires that they be mediated so that with pacific settlement of disputes," peace shall prevail. Initial responsibility is given to the Security Council of the United Nations, which is composed of mainly powerful and rich countries who were the victorious power after the Second World War, dominated by the United States of America. They assume this role to offer moral and just leadership to ensure peace and security. But unfortunately the world has been witnessing crisis after crisis and how measurably they are failing.
For ages, scholars in various fields have developed concepts and theories, some of which have made extraordinary contributions and significant changes in social, economic and political spheres through research and experiments, sometimes under very difficult conditions.   If we compare the 60's and the 70s to the present, on the one hand there has indeed been revolution in technologies related to communication and information-sharing. As a result, there has been an expansion of democratic space in some countries.  Yet, many people are still wondering what kind and type of Nation-State governance is most meaningful, given the changing context?  Initially The Arab Spring did create a wave of optimistic enthusiasm, but there has been a wide gulf between expectations and achievements. As a result, the horizon remains shrouded in a fog of uncertainty spawned by sectarian conflict and overshadowed by chaos. Millions of people including children have had to flee and become refugee in their own land and millions have opted to becoming migrants in European and other countries. Thousands of them have lost their lives during the horrendous journey of flight and fright.
The Communication revolution in recent years has created opportunities for trans-border high-speed linkages. as well as for tourism, networking, economic cooperation and greater integration.  Despite these gains, people and societies are facing many challenges. Some challenges are old and chronic, such as poverty and; unemployment. Gaps between the rich and the poor, as well as between the urban and the rural areas are widening. Women and indigenous communities have gained some ground but are yet to achieve equal rights and dignity. Other challenges, such as ethnic cleansing and rendition are new and often not fully understood or addressed.
We are in a post-Cold War era of "peace", but protracted civil wars, intra-faith and interfaith conflicts, hegemonic occupation, and extremism have claimed millions of lives. Even as migration and forced migration increases, so too does xenophobia and racism. The arms trade is continuing unabated, justified in the name of the security of the state.  Millions of people have no access to clean water, basic health care and sanitation. Rapid economic globalization has created new problems for workers as well as the self-employed. Greed, selfishness and materialism are eroding values of caring and sharing.  Religious and cultural values, respect for life and integrity of nature are being eroded, paving the way for power, profit and injustice to rule.
Grave environmental concerns have emerged. The challenge of climate change is real. The frequency of natural disasters has increased many-fold, and so has the suffering of millions of people.
It is true that conventional academic forums and conferences have been examining the present crisis and proposing future directions. At the same time, a growing number of young scholars are increasingly engaged in research work to respond to some of our contemporary challenges. They deserve more space to present their work and proposals for the future.
Why this Conference?
Since 2004, Asian Resource Foundation (ARF) and Asian Muslim Action Network (AMAN) have been offering modest research fellowships to young scholars in Asia. Over 50 publications have resulted from such research. The International Institute of Peace and Development Studies (formerly known as the School of Peace Studies) has been offering short courses and facilitating exchange programs for young scholars and activists for the last 10 years, in cooperation with a number of Universities and Institutes in Asia.
The Bangladesh Institute of Islamic Thought (BIIT) is a think-tank which engages in research and in-depth studies for synthesizing education, culture & ethics. It is also a Bangladesh chapter of International Institute of Islamic Thought (IIIT) based in Washington, United States.
We have received many requests and proposals from young scholars to provide space and a forum so that they could present their academic and research work. We fully recognize the potential of such young scholars.
The objective of this Conference is to offer such space and opportunities for the young scholars to present their academic work, develop networks, and enhance interaction with selected senior scholars in order to build bridges, networks and advocacy for a common future which is sustainable and peaceful.
Eligibility of the participants 
Young scholars between the ages of 25 and 40 from universities, research institutes, lecturers, researchers, post-graduate students, NGO staff members, government and private sector employees engaged in research, academic and development work, will be the participants.
Selected senior scholars will also be invited to the Conference for a special session to exchange and interact with the young scholars.
Proposed Thematic Areas:
1. Envisioning the Future Leadership
2. Is Humanity Facing a Global Spiritual Crisis?
3. Youth in a Globalised World
Youth  and social media

Young writers on contemporary social issues

Young women leaders in the social and political spheres
4. Xenophobia, Racism, Intolerance and Discrimination
Migrants in Europe

America under Donald Trump
5. The Nation State and Challenges for Peaceful Co-existence
Migration and social integration

Challenges of peace-building in multi-ethnic, multi-religious states

Challenges of sustainable development and food security for the Poor
6. Women's Leadership in Addressing the Global Crisis
Confronting patriarchy

Promoting  social justice

Promoting peace
7. Human Rights Advocacy and Trans-border Solidarity
8. Religion, Culture, Arts and Humanistic Values 
9. Preventing Violent Extremism
10. Addressing Humanitarian Needs and Innovative Responses
How to Apply
Please download the application form at https://drive.google.com/drive/folders/1GdcMIKOeQlzl4w8-VFOZdfyLqJ0nK7EO and submit it together with your abstract to iipds@arf-int.org
CONFERENCE SECRETARIAT


International Institute of Peace and Development Studies (IIPDS)
Asian Resource Foundation (ARF)
Bangkok, Thailand.
Cell: +66-632429468
Email: iipds@arf-int.org
English
Event date:
Thursday, 28 February, 2019 - 08:00

to

Friday, 1 March, 2019 - 06:00